I am fortunate to work with several bright students:
---
Ph.D. Students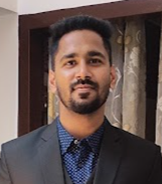 Sourabh Yadav
Ph.D. student (2022 Spring --)
Data privacy, Machine Learning, Deep Learning, and Blockchain
Email: Sourabh.Yadav AT unt.edu
Google scholar
Sourabh received his MS degree in Artificial Intelligence and Robotics and have been an active researcher in the subject since 2018. Currently, he is working on location privacy protection in time-sensitive spatial crowdsourcing and cooperative perception of autonomous vehicles.
---
Master Students
Harshitha Gorrepati (2022 Spring –)
Bharath Datta Chary Vadla (2022 Fall –)
---
Alumni
Ce Pang (B.S., 2020) Currently studying at Santa Clara University and still collaborating with our lab.
Tanuja Polineni (M.S., 2022) Current employment: Tricentis